Page 12 - achivment_book21
P. 12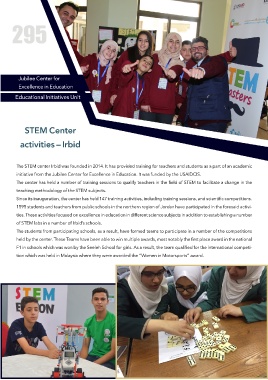 295

   Jubilee Center for
   Excellence in Education
 Educational Initiatives Unit

    STEM Center
  activities – Irbid

  The STEM center Irbid was founded in 2014. It has provided training for teachers and students as a part of an academic
  initiative from the Jubilee Center for Excellence in Education. It was funded by the USAIDCIS.
  The center has held a number of training sessions to qualify teachers in the field of STEM to facilitate a change in the
  teaching methodology of the STEM subjects.
  Since its inauguration, the center has held 147 training activities, including training sessions, and scientific competitions.
  1595 students and teachers from public schools in the northern region of Jordan have participated in the foresaid activi-
  ties. These activities focused on excellence in education in different science subjects in addition to establishing a number
  of STEM labs in a number of Irbid's schools.
  The students from participating schools, as a result, have formed teams to participate in a number of the competitions
  held by the center. These Teams have been able to win multiple awards, most notably the first place award in the national
  F1 in schools which was won by the Seeleh School for girls. As a result, the team qualified for the international competi-
  tion which was held in Malaysia where they were awarded the "Women in Motorsports" award.