Page 20 - achivment_book21
P. 20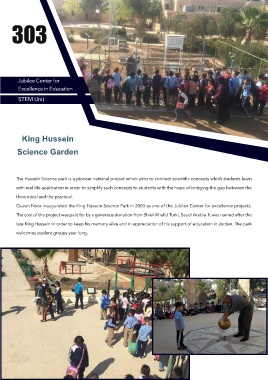 303

   Jubilee Center for
   Excellence in Education
   STEM Unit

   King Hussein
  Science Garden

  The Hussein Science park is a pioneer national project which aims to connect scientific concepts which students learn
  with real life application in order to simplify such concepts to students with the hope of bridging the gap between the
  theoretical and the practical.
  Queen Noor inaugurated the King Hussein Science Park in 2003 as one of the Jubilee Center for excellence projects.
  The cost of the project was paid for by a generous donation from Shiek Khalid Turki, Saudi Arabia. It was named after the
  late King Hussein in order to keep his memory alive and in appreciation of his support of education in Jordan. The park
  welcomes student groups year long.