Page 6 - achivment_book21
P. 6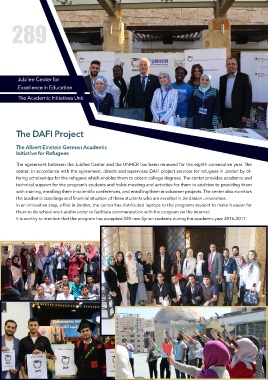 289

   Jubilee Center for
   Excellence in Education
   The Academic Initiatives Unit

 The DAFI Project

  The Albert Einstein German Academic
  Initiative for Refugees

  The agreement between the Jubilee Center and the UNHCR has been renewed for the eighth consecutive year. The
  center, in accordance with the agreement, directs and supervises DAFI project services for refugees in Jordan by of-
  fering scholarships for the refugees which enables them to obtain college degrees. The center provides academic and
  technical support for the program's students and holds meeting and activities for them in addition to providing them
  with training, enrolling them in scientific conferences, and enrolling them in volunteer projects. The center also monitors
  the academic standings and financial situation of these students who are enrolled in Jordanian universities.
  In an innovative step, a first in Jordan, the center has distributed laptops to the programs student to make it easier for
  them to do school work and in order to facilitate communication with the program via the internet.
  It is worthy to mention that the program has accepted 220 new Syrian students during the academic year 2016-2017.