Page 8 - achivment_book21
P. 8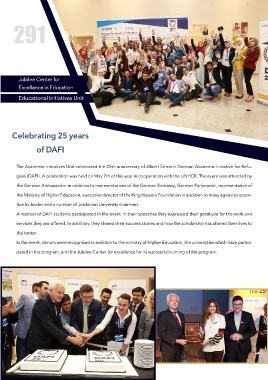 291

   Jubilee Center for
   Excellence in Education
   Educational Initiatives Unit

Celebrating 25 years
        of DAFI

  The Academic Initiatives Unit celebrated the 25th anniversary of Albert Einstein German Academic Initiative for Refu-
  gees (DAFI). A celebration was held on May 7th of this year in cooperation with the UNHCR. The event was attended by
  the German Ambassador in addition to representatives of the German Embassy, German Parliament, representative of
  the Ministry of Higher Education, executive director of the King Hussein Foundation in addition to many agencies opera-
  tion in Jordan and a number of Jordanian University chairmen.
  A number of DAFI students participated in the event. In their speeches they expressed their gratitude for the work and
  services they are offered. In addition, they shared their success stories and how the scholarship has altered their lives to
  the better.
  In the event, donors were recognized in addition to the ministry of Higher Education, the universities which have partici-
  pated in the program, and the Jubilee Center for excellence for its successful running of the program.